Traditional Braces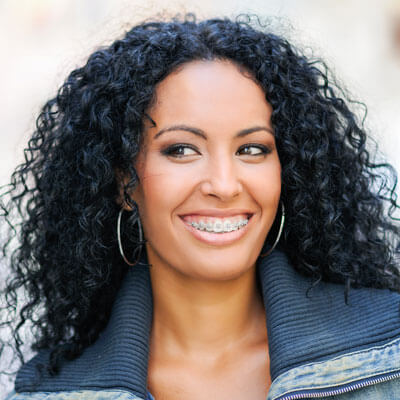 Would you like to show off a perfectly aligned smile? Many people have considered getting braces but haven't yet taken the plunge. If you're ready to do so, the team at Six Twelve Family Dental can help you. Traditional braces have been the trusted orthodontic solution for decades.
This treatment can improve the function and appearance of misaligned or improperly positioned teeth and jaws. Thanks to advancements in dentistry, braces are lighter, smaller and less noticeable. They're also more comfortable and affordable than in days past.
What Traditional Braces Involve
If you choose to have traditional braces, you will have stainless steel brackets bonded to the surface of each tooth. A dental adhesive is used to do so that is extremely strong. Each bracket is linked by a thin wire. The wire is gradually tightened and adjusted to move the teeth and jaw into the correct position.
The total treatment times for traditional braces are 6-24 months. Your treatment time will depend on the shifts that need to be made. You'll visit our practice for follow-ups every 4-8 weeks. At these visits, we'll check your progress and tighten the wire, which causes your teeth to shift further into the desired position.
Smilefast® Treatment Available
If you would like to have orthodontics but feel unsure about metal braces, Smilefast may be the ideal solution. It involves clear braces rather than metal, making them less noticeable. The treatment times that are involved with this option average 6-12 months. You'll be able to show off a smile you love in less than a year!
Gain a Gorgeous Look
Now is the perfect time to get started on improving your smile. Our experienced, gentle team provides a broad range of solutions to suit your needs. Contact us today to learn more about traditional braces Hurlstone Park or to schedule your first consultation with us!
* Any surgical or invasive procedure carries risks. Before proceeding, you should seek a second opinion from an appropriately qualified health practitioner.

Traditional Braces Hurlstone Park, Dulwich Hill, Ashbury NSW | (02) 9558 6656