Fluoride Treatment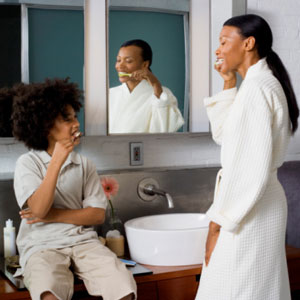 At Six Twelve Family Dental,
our experienced team
provides a full suite of services to suit your every need. We want to make sure that each member of your family receives high-quality dental care to keep their smile bright and healthy.
There are three important elements to good oral health: brushing, flossing and keeping your regular checkup appointments every six months. By seeing us twice per year, we can prevent more serious concerns from occurring or address them straightaway. One effective way to do so is through fluoride treatments.
Frequently Asked Questions
Fluoride is a mineral that occurs naturally in soil, water and food. It is useful in preventing tooth decay and repairing early cavities. By taking in fluoride, your teeth can stay strong and resist damage from sugars and bacteria. The part of the tooth that fluoride supports is called the enamel, which is the outer layer.
Even though you brush and floss, decay can still happen. Bacteria that builds up on your gum and teeth forms a sticky layer that is called plaque. In turn, the plaque produces an acid that will erode your teeth. Once it gets to the enamel, it can travel deeper into the core of the tooth, which would require more serious intervention. That's why it's vital that you prevent problems from occurring with options like fluoride treatment Hurlstone Park.
What is the process of getting a fluoride treatment?
This simple procedure takes just a few minutes. It's usually performed after your scale and clean. A topical substance is applied right to your teeth. You'll find that it's a simple way to protect your oral health.
How often should I have a fluoride treatment?
You can have fluoride treatment done every six months at your routine checkups. If you have certain oral health conditions, it may be appropriate to have it at a different frequency. We'll let you know our recommendations at your appointment.
Book Your Visit Today

Keep your smile healthy for life. Contact Six Twelve Family Dental today to book a time with our gentle, friendly team!
CONTACT US

Fluoride Treatment Hurlstone Park, Dulwich Hill, Ashbury NSW | (02) 9558 6656