Children's Dentistry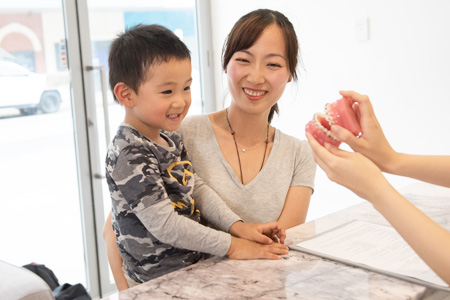 At Six Twelve Family Dental, we welcome patients of all ages. Not all dentists see children, but our experienced team loves to see our youngest patients. Paediatric dentistry is a specialty area focused on providing comprehensive oral health care to children from infancy to adolescence.
Caring for children isn't the same as dental care for adults. The types of treatments performed and the way in which the dentist deals with the unique behaviours of children is completely different.
Soothing Your Child's Apprehensions
We understand that many children have a fear of the dentist based on what they've been told dental treatment involves, what they've overheard or their past experiences. It's our job to manage and soothe those fears to ensure the appropriate treatment is carried out in the most comfortable setting.
We have the experience and the expertise to have a sensitive and gentle chairside manner for our younger patients.
An Interest in Children's Dental Care
Principal Dentist Dr Chitty Gong is passionate about teaching good oral hygiene to children early. She also has a particular interest in treating children. Part of what she does is educate parents on the importance of healthy airways and their relationship with quality sleep, healthy facial growth and development in their children.
Book Your Child's Appointment Today
Do you have children that are due for a checkup? We recommend they have their initial appointment shortly after the first teeth erupt. Contact us today to schedule a visit!

Children's Dentist Hurlstone Park, Dulwich Hill, Ashbury NSW | (02) 9558 6656