Dental Veneers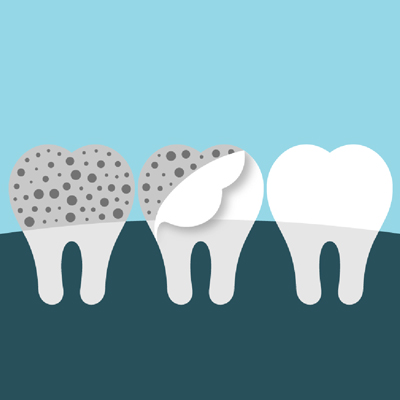 If you would like to alter the way your smile looks, the experienced team at Six Twelve Family Dental can help you. We provide a range of cosmetic dentistry options. Dental veneers are a procedure that will give your teeth the ideal shape, size and colour.
Veneers are designed to improve the appearance of crooked, spaced or worn front teeth. They involve bonding custom-made thin pieces of porcelain or composite to the visible portion of the tooth's surface.
Who Is a Candidate for Dental Veneers?
If you would like to correct teeth that are damaged, rotated, misshapen or disproportionate (too long or short), have stains, gaps, or uneven surfaces, veneers may be right for you. It involves a painless, nonsurgical and affordable treatment. Bonding is a similar form of treatment but veneers are more durable, stronger, longer-lasting and more stain resistant.
The Process of Getting Veneers
There are several steps involved in having your teeth fitted with veneers. The first step is to diagnose the affected tooth or teeth and discuss with you the appropriate method of veneer placement, either direct or indirect.
If direct is the best option, we can discuss the designs and place the final veneers on the same day. We can make any necessary adjustments to ensure the thickness and shape are suitable. If indirect is suitable for you, we prepare the tooth as required and take an impression. Once the dental veneer Hurlstone Park is fabricated, we then cement it directly to the surface of your tooth.
Here is the step-by-step process for getting indirect veneers:
Smile assessment – We diagnose the affected tooth or teeth using photographs or radiographs to create impressions of your teeth.
Colour and shape selection – We help you select the most appropriate shape, colour and material to complement the rest of your natural teeth.
Mock-up veneers – We provide a mock-up design to demonstrate the how your final veneers will look so that you know what to expect.
Cementation of final veneers – Once the veneer is fabricated, we will cement the veneer directly to the surface of the affected tooth or teeth.
Long-Lasting Dental Solutions
When you care for your veneers properly, they'll last for 10-15 years. Contact us today to learn more about this option!
* Any surgical or invasive procedure carries risks. Before proceeding, you should seek a second opinion from an appropriately qualified health practitioner.

Dental Veneers Hurlstone Park, Dulwich Hill, Ashbury NSW | (02) 9558 6656