Preventative Dentistry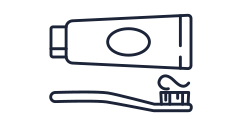 The team at Six Twelve Family Dental knows that an ounce of prevention is worth a pound of cure. It's truer than ever when it concerns your oral health. We provide preventative dentistry to keep your smile gorgeous and bright. With your biyearly checkups, we can catch potential problems early on. With our thorough cleanings, your teeth will be left sparkling and smooth.
Scale and Cleans: Even if you brush and floss regularly, a buildup of plaque can appear on your teeth. Once it turns into calculus, which is hardened plaque, your brushing and flossing aren't enough to remove the buildup. It can cause tooth decay or gum disease if not properly removed. Our scale and cleans involve specialised instruments and equipment to clean every facet of the tooth, between teeth and close to the gum line. You'll be able to have great oral hygiene with periodic scale and cleans.
Fissure Sealants: A sealant is a plastic material that can be applied ot the back teeth, which have deeper pits and fissures. These teeth are more prone to decay. A fissure sealant prevents any buildup from forming that can cause cavities. It's applied to teeth, then cured with an ultraviolet light to set. It's smoothed down so that you can easily clean it.
Oral Hygiene Care and Advice: We want you to enjoy the best possible oral health. With our personalised hygiene care advice, you can take control of your dental health outside of your appointments with us. We'll give you tips based on your individual needs including oral appliances or the proper hygiene measures.
Fluoride Treatment: Fluoride has been found to prevent tooth decay and early cavities. Though it's naturally found in soils and is added to some water sources, an extra application can help you even more. It can be put directly on the enamel of your teeth following your checkups.
Teeth Grinding Prevention: If you grind or clench your sleep, you may not even know that you do it. It happens during sleeping hours and can cause headaches, jaw pain and more. There are many options to reduce the effects of grinding such as an occlusal splint. We'll assess whether you grind and determine if such a device is right for you.
Sleep Apnoea: Obstructive sleep apnoea is a common form of sleep disorder. It involves shallow or short breaks in breathing during sleeping hours. There is a myriad of negative effects on those who have it. With a dental assessment, we can determine if you have sleep apnoea. If so, we'll recommend the appropriate measures to remedy it.
Mouth Guards: A custom-fit mouthguard gives you a measure of protection you won't get in the mouth guard kits from the chemist. It fits comfortably and is worn during any practice, match or leisure activities. With a snug fit, you'll be able to speak understandably while making sure your mouth and jaw can't be easily injured.
Schedule Your Appointment Today
Are you interested in preventative dentistry Hurlstone Park or our many other services? Contact our friendly team today to make your booking with us! Your health fund cover can be used for your visit.
* Any surgical or invasive procedure carries risks. Before proceeding, you should seek a second opinion from an appropriately qualified health practitioner.

Preventive Dentistry Hurlstone Park, Dulwich Hill, Ashbury NSW | (02) 9558 6656