Dental Implants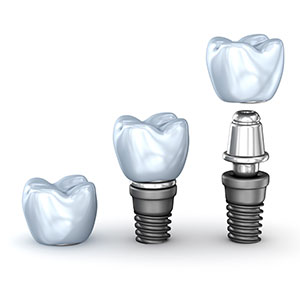 Are you missing a single tooth? Do you have multiple gaps in your smile? At Six Twelve Family Dental, we provide dental implants. This tooth replacement option is the most revolutionary solution available today. They are durable, long-term and act just as a natural tooth.
The Process of Getting a Dental Implant
A dental implant is a surgical, screw-like fixture. It is generally made from titanium. The screw is inserted into the jawbone and acts as an anchor for your new artificial tooth. Over time, the surgical fixture fuses with the bone to create a strong and stable support that looks and functions like a natural tooth.
Single dental implants or multiple implants are available depending on your individual needs.
Who is a Candidate for Dental Implants?
While the objective for many dentists is to restore rather than replace your natural teeth, there are several scenarios where implants may be the best option:
You have a cracked or broken tooth that is beyond repair
You are missing one or more of your natural teeth
You have an infected tooth or teeth that are causing pain
You have joint pain or bite issues that cause teeth to shift
You have bone loss in the jaw
You have ill-fitting dentures
A Perfect Appearance and Function
Your dental implant will last as long as the rest of your natural teeth. Be sure to keep your gums and teeth healthy with proper oral hygiene and regular checkups.
* Any surgical or invasive procedure carries risks. Before proceeding, you should seek a second opinion from an appropriately qualified health practitioner.

Dental Implants Hurlstone Park, Dulwich Hill, Ashbury NSW | (02) 9558 6656