Orthodontics
The team at Six Twelve Family Dental provides a full suite of services to suit your needs. If you have considered straightening your teeth, our orthodontic systems may be the perfect solution. Orthodontics is one of our many options offered in-house so that you don't need to go to a specialist for your care.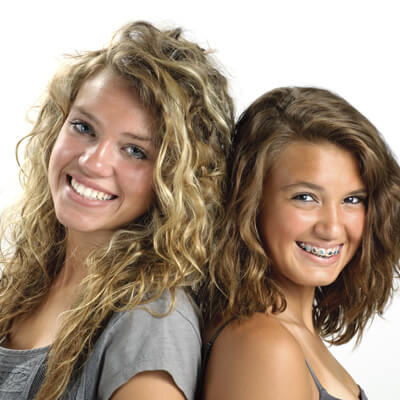 Orthodontics focuses on the diagnosis, prevention and correction of teeth and jaws that are misaligned or positioned improperly. Treatment options such as traditional braces or Invisalign® help to correct:
Crooked or crowded teeth
Gapped teeth
Missing teeth
Overbites
Unaligned jaw
Underbites
Unsupported lower face and lips
Our dentists are trained and experienced in providing orthodontics for children and adults alike. We'll help you show off an even smile, improve your oral health and boost your self-confidence.
Traditional Braces
Traditional braces have been used for decades for good reason. They give reliable outcomes to kids and adults alike. It involves having metal brackets placed on each tooth that are then connected to each other with a wire. The wire can be tightened periodically, which causes your teeth to slowly shift into the desired position. You'll have regular checkups at our clinic to make sure we're seeing progress and to have the wires tightened. They're worn for a total of 6-24 months.
Smilefast®
If you'd like cosmetic correction but want to avoid the appearance of traditional metal braces, Smilefast might be right for you. These braces are clear, so they're less noticeable. They also offer quick treatment times, totaling 6-12 months on average.
Invisalign
Invisalign is known around the world. It uses clear aligners that are virtually invisible to straighten your teeth. You'll have sets of aligners custom-created for you in the Invisalign laboratory. Your aligners are worn for 22 hours a day, which gives you the freedom to take them out for meals or social events. With each new set of aligners, your teeth will move into the desired position.
Get Started Today
Would you like to show off a more aligned look? Contact us today to find out more about orthodontics Hurlstone Park!
* Any surgical or invasive procedure carries risks. Before proceeding, you should seek a second opinion from an appropriately qualified health practitioner.

Orthodontics Hurlstone Park, Dulwich Hill, Ashbury NSW | (02) 9558 6656