Emergency Dental Care
Do you suspect that you're experiencing a dental emergency? We always warn our patients to err on the side of caution. It's better to have a member of our experienced team assess you than assume your problem can wait for treatment. We'll work you into our schedule as soon as possible to give you the attention you need.
Common Dental Emergencies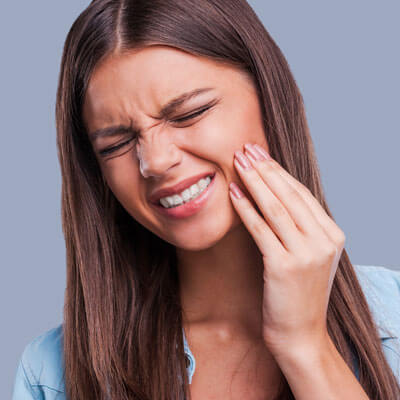 There are several common emergencies that can affect your oral health:
Toothache:  A dull or sharp pain in or around a specific tooth can have many causes. A cavity, crack, break or infection in the tooth or gums can occur. You may feel tooth sensitivity or other symptoms. We will conduct an examination to identify the cause and the most appropriate treatment.
Broken or chipped teeth:  Pain doesn't necessarily occur when a tooth is chipped or broken. That's why it's vital to have it checked as soon as possible. More serious consequences can result if it's ignored.
Lost teeth:  You won't be able to chew or speak the same if you don't replace missing teeth. It can impact your self-esteem and confidence. Furthermore, your gum tissue can recede, which will lead to bone loss. There are several factors that can cause the loss of teeth. Many replacement options are available based on your needs, which we'll discuss with you.
Dealing With Lost Teeth
While an injury to the teeth or mouth is common, there are serious consequences if not addressed. We are just a phone call away. Until your appointment, there are a few tips you can follow:
Find the tooth and be sure to pick it up only by the crown. Avoid touching the roots.
Put the tooth back into its socket immediately. If the tooth is dirty, wash it quickly under cold running water (no longer than 10 seconds) and then put it back. There is, however, no need to reposition a baby tooth.
Once the tooth is back in the socket, bite on a handkerchief to hold it securely in position.
If you're unable to put the tooth back, store the tooth in milk, saline or Hanks Balanced Salt Solution (HBSS). Don't store the tooth in water.
Bring the tooth with you to our practice. If the patient is an adult, they can safely hold the tooth in their mouth. Keep it inside the lip or cheek and be careful not to swallow it.
Get the Attention You Need
Do you need emergency dentistry Hurlstone Park? Contact us today and we'll get you in as quickly as possible!
* Any surgical or invasive procedure carries risks. Before proceeding, you should seek a second opinion from an appropriately qualified health practitioner.

Emergency Dentist Hurlstone Park, Dulwich Hill, Ashbury NSW | (02) 9558 6656