Custom Mouth Guards
At Six Twelve Family Dental, you can benefit from our broad range of services offered at one location. Our experienced dental team provides gentle care for you and all of your loved ones. If you or another member of your family is active in sport, you may need a mouth guard to protect your head, neck, jaw, teeth, gums and cheeks.
We offer custom-created mouth guards that will give you the security you need to participate in your spot with confidence. The activities that may require a mouth guard include:
Football
Baseball
Basketball
Boxing
Gymnastics
Hockey
Mountain biking
Netball
Rugby
Skateboarding
Even lower-impact sport and leisure activities can benefit from the use of a mouth guard. In fact, some of these are more likely to cause an injury to your mouth simply because you won't be expecting it to happen.
Professional Mouth Guards Vs. Chemist Kits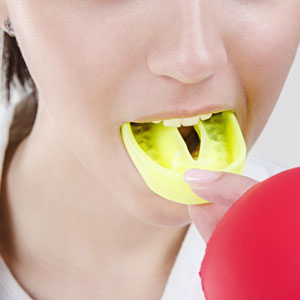 You might wonder whether our mouth guards are superior to those "bite and boil" kits that you can buy at the chemist. These kits are not tailored to you. Therefore, they don't offer the same level of protection. It likely won't have a snug fit, either. You'll find that it is difficult to speak or breathe, which can be detrimental during a match.
The Process of Getting a Mouth Guard
When you come in to get a mouth guard, there are two appointments involved. At the first visit, we will take a mould of your upper and your lower teeth. A model can then be constructed from the impressions. This model is used by our dental laboratory to custom-create your mouth guard. You can then return for a follow-up visit to test out your mouth guard Hurlstone Park. We'll check the fit and make sure that you and your dentist are pleased with the results. Rinse your mouth guard in cold water after use and store it in a container with air vents. It can be washed with soapy water on occasion.
Schedule Your Visit Today
If you're interested in getting a mouth guard or can benefit from any of our other solutions, contact Six Twelve Family Dental today! We'll get you scheduled for a consultation with our team.

Custom Mouth Guards Hurlstone Park, Dulwich Hill, Ashbury NSW | (02) 9558 6656