Fillings
At Six Twelve Family Dental, you can feel confident that our experienced team offers the solutions you need. We can help you show off a healthy smile for life. If you have tooth decay, our fillings will restore the health of your tooth.
What is a Filling?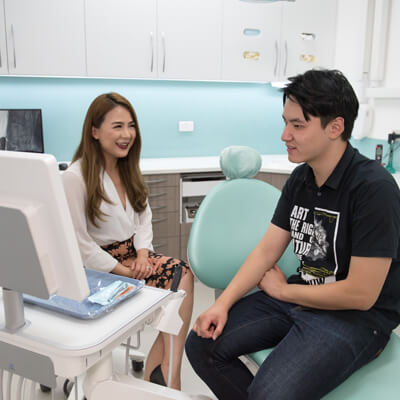 A filling is the most common restorative dental treatment. It repairs your teeth and stops decay. A specific material is used to replace the section of the tooth that has been worn away by decay. It can also be used to cover cracks or breaks. If left untreated, your tooth will develop sensitivity and pain. More serious issues such as an infection, tooth loss and bone loss can result.
The materials offered for fillings include amalgam, gold, composite resins, glass isonomers and ceramics. We choose to use tooth-coloured dental fillings rather than silver amalgam.
The Process of Getting a Filling
The first step is to schedule an appointment. We can determine whether a filling is the right option for you. If so, we'll discuss which material should be used. Your teeth and gums are numbed so that you don't feel discomfort. The decay is then removed and the filling material applied to the area of concern. In total, this visit takes less than 30 minutes.
A Long-Lasting Solution
Fillings should last for at least a few years. Its lifespan depends on several factors:
The location of your filling
The size of your filling
The strength of your bite
Your risk of dental decay
We want your filling Hurlstone Park to stay in place for as long as possible. We'll advise you on how to keep it in great shape.
Schedule Your First Appointment Today
Are you concerned about your oral health? Are you due for your six-month checkup? Our team will evaluate your teeth and gums. Contact our friendly team today to schedule your first appointment with us!
* Any surgical or invasive procedure carries risks. Before proceeding, you should seek a second opinion from an appropriately qualified health practitioner.

Dental Fillings Hurlstone Park, Dulwich Hill, Ashbury NSW | (02) 9558 6656